THE UPPERCASE ENCYCLOPEDIA OF INSPIRATION
Beautiful Books to Inspire, Inform and Delight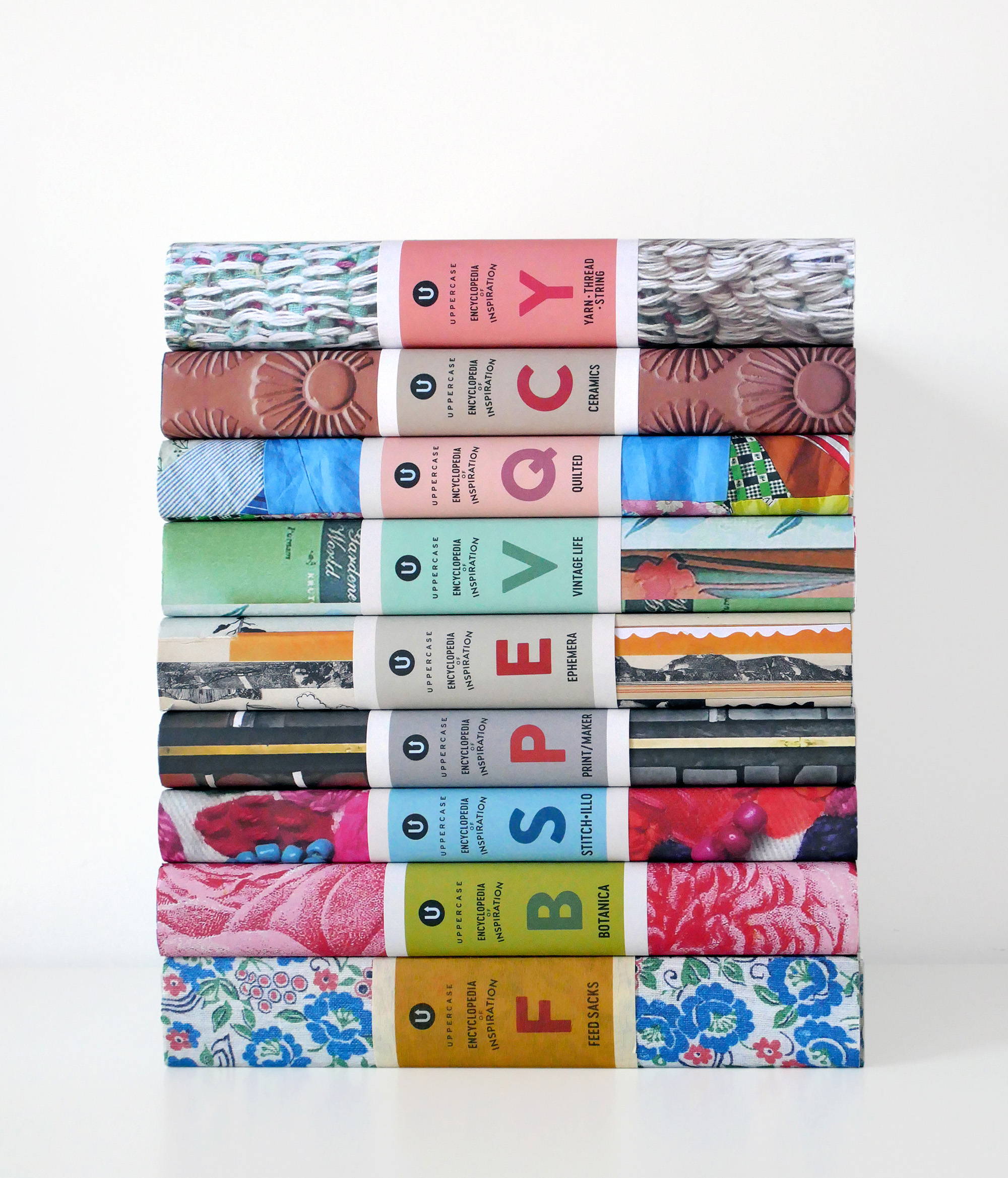 At one time, encyclopedias were venerated as ultimate sources of knowledge. People saw the value in investing in these massive multi-volume sets, ordered through the post or from a door-to-door salesman, and they enjoyed the convenience and status of having a reference section in the comfort of their living room. Acquiring an encyclopedia was a commitment to education and learning.
These days, we have an overload of information at our fingertips. Certainly, with Pinterest and Instagram and blogs and podcasts, there is no shortage of visual inspiration for creatives. But as makers, we appreciate—we yearn—for the tangible. And we crave high-quality content that is lovingly curated instead of coming to us in random or algorithmic bits.

Coveting, owning and holding a beautiful and informative ink-on-paper inspiring tome… now that's something that can't be experienced virtually!
Since 2016, UPPERCASE has produced 9 gorgeous volumes, totalling 3,904 pages.
Introducing... Volume A: Art Supplies
Help crowdfund the next book!
The 10th volume in the UPPERCASE Encyclopedia of Inspiration is all about Art Supplies: the provenance, lore and enduring appeal of art-making ingredients, materials and accessories told through profiles of artists, artisans and manufacturers (independent makers and venerable brands with historical legacies).
Lushly illustrated through photography and artwork, this exuberant edition will be a must-have volume in the UPPERCASE Encyclopedia of Inspiration.
The size and scope of this volume will be similar to Volume Y: Yarn-Thread-String (496 pages).
Volume A is planned to be released in May 2022.
The pre-order price includes free worldwide shipping.
Sign up for my newsletter for the latest news about Art Supplies and other projects.

Auditions to be considered for this volume are open July 15 – August 20. The audition submission form will be available here on July 15.
The ethos of the Encyclopedia of Inspiration series is that all volumes are of interest to creative and curious people—we are multi-passionate and find inspiration in all variety of topics, artistic mediums and creative expressions. It is precisely this diversity of topics, eclectic content and interesting juxtapositions that make the series so inspiring! You'll definitely want them all in your creative library!

Books in the Encyclopedia of Inspiration are beautifully printed in Canada on 100% post-consumer recycled paper stock (interior pages). They come with a bellyband and a dust jacket that can be folded to reveal one of four different designs—a feature that has become a signature of this book series.

UPPERCASE is an independent publisher. Our books are not available in big box stores or on Amazon. We do not have a book distributor in North America and the majority of our book sales are made directly via our online shop.

When you order a book, you're supporting the many months (years, sometimes!) of work required to make these books: curating, writing, editing, designing, prepress, printing—each of these stages is a vital part of the process. Pre-ordering forthcoming books helps fund these stages along the way and ensures that the book has an appreciative audience waiting for its release. Sign up for my newsletter for information about upcoming volumes.
UPPERCASE (Janine Vangool) is known for creating quality books and magazines. The magazine has been published consistently every quarter since 2009. UPPERCASE has a proven track record of getting things done, beautifully and as promised!

If you're outside of North America, you can order the USA Encyclopedia Bundle,
but customs/duties/import charges are entirely your responsibility.


Ephemera and Print/Maker are currently out of print.
Click on their images below to register your interest in a reprint.
Thank you for your support!
I'm working on ideas future volumes—please sign up to keep in touch!