UPPERCASE magazine subscriber Info
How do I change my address?
It's your responsibility to keep your address accurate. Mailing data is finalized in the month before each issue is released in January, April, July and October.
IMPORTANT NOTE: The online shop does not manage your subscription, so if you're moving and need to change your address, please fill in this form to update your address. Creating an account with the online shop will store your email and address for future purchases, but does not reflect your subscription information.

To make a change, please complete the address change form.
For more help with your orders, consult the Help page.
When will it be time to renew?
The number of your last issue is listed the poster sent with your most recent issue. Don't worry—we'll send a renewal email before your last issue arrives.

If someone gave you a gift subscription (lucky you!) we won't have your email on file yet—please email shop@uppercasemagazine.com with your full name, mailing address and email.
How can I be in the magazine?
There are many ways to participate!
And I'd love to see what you make or do. Go to the Participate tab above.
How else can I support UPPERCASE?
As a small independent publisher, we need new subscribers to keep us going. You can help us by telling your friends why you love the magazine. Share pictures of the magazine on social media.
@uppercasemag#uppercaselove.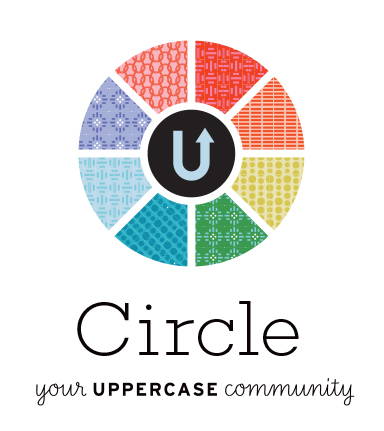 Subscribers have free access! Apply here. Please allow a few days for your membership to be approved.

The UPPERCASE Circle is a vibrant community hub. One that is a valuable source of motivation, inspiration and encouragement for like-minded and kind-hearted creative people from around the world. Although the community is initially brought together by its support for and appreciation of UPPERCASE magazine, the Circle will enhance your experience of all things UPPERCASE while providing additional value to your creative life through conversation and sharing of knowledge.
Connect with members

of the UPPERCASE community—both near and far—

who share your interests.

Share your work with

your peers, mentors and potential customers.

Find inspiration, motivation

and new perspectives.

Move your creative business forward with tips, tools

and support from peers

and guest experts. Live video conferences

and video chats.