Since becoming a B-School affiliate in 2018, I've welcomed nearly 200 creatives into B-School. First and foremost, being an affiliate is a position of trust and I take it very seriously. If you admire me and my business and want to build your own big-hearted and creative business—with Marie Forleo and me as your mentors—please join us in B-School!
Enrollment for B-School 2023 has ended.
Join us again in 2024.
Here are the important dates for this B-School Summer Session:
Upon enrollment, you get immediate access to the Start The Right Business training. This stand-alone course is INVALUABLE at getting clarity on your business ideas—whether you're just starting out or have been in business for a while.
- Module 1: Profit Plan — July 31st
- Module 2: Irresistible Offers — August 7th
- Module 3: Marketing Mastery — August 14th
- Module 4: Free Content Strategy — August 16th
- Module 5: Traffic & Audience Growth — August 21st
- Module 6: Choose Marketing-Smart Technology — August 23rd
- Bonus Trainings: Released throughout August and September
Throughout the program, you'll have the opportunity to join Office Hours with Marie and the B-School Mentors every Thursday from 2pm – 3pm.
You're a B-Schooler for life—you can take the course again and again, both live and at your own pace.
TUITION The Summer Session of B-School will be discounted by $500 at checkout, so the price is $1,999 USD (or 12 payments of $199 USD each).
B-School Basics
➨ B-School is an interactive online video-based training program.
➨ B-School includes six modules with training videos and audio, templates, resource lists, worksheets, private B-School member site, live group coaching calls and a really strong and supportive online community.
➨ It is really effective to take the course "live" with other students, but you can take it at your own pace if you prefer.
➨ You have access to B-School for life and can take it as often as you like, year after year.
➨ B-School is $2499 USD (monthly payment plan available).
Registration opens again in 2024.
AFFILIATE DETAILS
Marie Forleo's B-School has been so integral to my business that I want to share the course with you. I'm proud that this is the fourth year that I'm an affiliate for B-School. I will earn a generous portion of every registration that results because of my testimonials and promotional efforts. If you decide to take B-School, please use my registration link so that I'll earn your referral—and you'll qualify for my bonuses, too. Signups to Marie's free training are also tracked. Thank you!
"Marie Forleo's B-School helped me rediscover the joy of running a creative business and showed me the potential for living generously."
Proof that B-School worked for me!
From stagnant sales (and $50,000 in debt) to profits in matter of months.
Since taking B-School in 2014, I've taken a personal approach to my communications and marketing and I've embraced a forthright and honest style in my writing. I share quite a bit with my readers and go into detail about how and why I make decisions. I've talked about the struggles I've faced in my business.
This is an approach that Marie Forleo teaches in B-School: communicating with one's customers should be a service to them.
And so I offer my own perspectives, realizations, trials and errors with you so that you might also benefit from my failures and join me in celebrating the successes. I'm transparent with my business.
I've generated a sales graph from Shopify, from when I started selling online in October 2007 until the end of December 2018, marking the release of the 10th Anniversary issue of UPPERCASE magazine.
From my very early days of e-commerce, selling artwork, greeting cards and handmade paper goods online, to the release of the first issue, the birth of my son... the graph tells the story of UPPERCASE's growth as a company and me as an entrepreneur.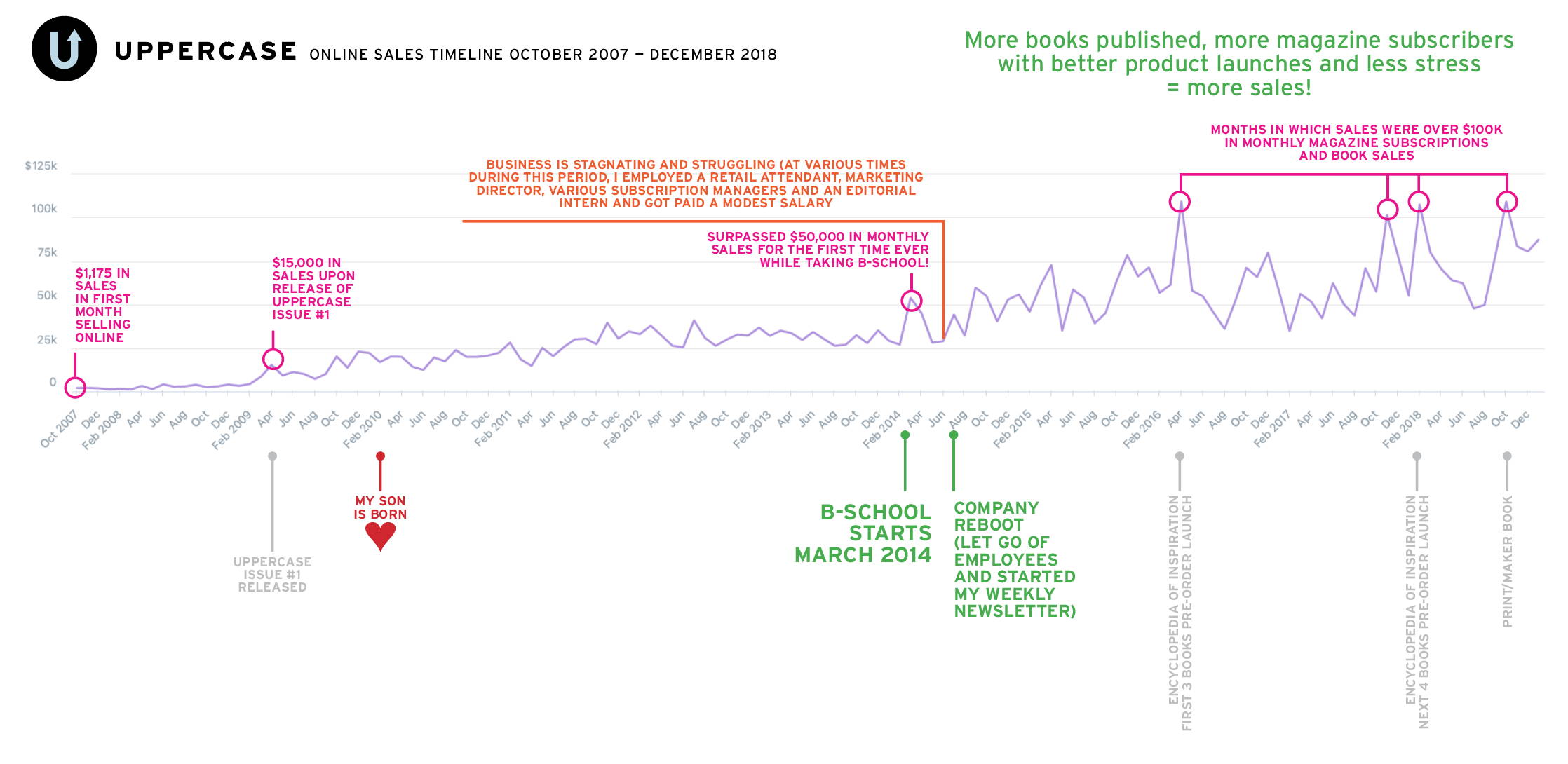 You can see that there was an immediate positive effect and spike in sales once I started taking B-School. Click here to see an even more detailed, larger chart.
The magazine had modest growth in the early years. I had help in my retail space for a number of years, and with being a new mom and trying to grow my publishing company, I assumed the logical thing would be to hire more help for the magazine.
As online sales were steadily increasing month over month and I was closing the retail location to concentrate on publishing, I brought on some employees specifically to manage orders and subscriptions. In 2012, I had a marketing manager, too. We were a nice little team for a while, but as you can see on the graph, there was no growth. Monthly sales were stagnating and the team and I weren't meeting the minimum monthly sales quota required to keep the ship afloat.
Desperate for a solution to keep my beloved publishing business alive, I used my credit card and enrolled in B-School. I started implementing what I was learning right away. I was scraping the bottom of my line of credit and faced running out of funds to pay my considerable print bills. As the sole earner in the family, UPPERCASE was the only thing supporting my family.
I had to lay everyone off and forego my salary.
I call it my big "reboot."
I pulled the plug on my expectations of what a "real" publishing company looked like and returned to my roots: just me.
Regular readers will know I'm a hard worker, but I never worked harder than that year following the reboot. The spikes in the graph are a testament to the extreme effort I put into kicking UPPERCASE into a profitable company. Without the burden of other people's salaries, plus monthly growth in online sales, I was very quickly out of the financial hole. Soon, UPPERCASE was turning a profit. And it continues to be on an upward trajectory.

Taking B-School—and more importantly, taking B-School to heart—was the catalyst that I needed to put my company on a financially sustainable path.
Get these unique bonuses only from UPPERCASE
✔ A one-year subscription or renewal to UPPERCASE magazine.
$96–$144 value
✔ One-on-one consultation with Janine for the first five students who enroll
and five drawn randomly from the rest!
$350 value
PLUS:
✔ Group coaching calls. Learn from me and fellow creatives. My group coaching calls are open to current B-Schoolers and alumni, too, so you'll get a full perspective. $100 value

✔ Access to our private B-School group in the UPPERCASE Circle. This is our gathering place that includes handy summaries of each B-School lesson and how they apply to creative businesses, discussion boards for focussed conversation plus support and encouragement from Janine and your fellow UPPERCASE B-Schoolers and Alumni. Access is available year-round and you can use the group for accountability, advice and self-promotion. I will be there to answer your questions as we make our way through B-School together. $400 value
✔ Free access to my forthcoming course! I'm developing a course that will present my methods for productivity, planning, focus and promotion—it's a course about the practical skills and mindsets for running a business built upon creativity. It's an excellent companion to B-School. It's still in development, but you'll be the first to be invited when it launches later in 2023. $497 value
✔ Get published in an UPPERCASE project! B-Schoolers get front-of-the-line consideration to be included in the weekly newsletter, in the print magazine and in upcoming book projects. GREAT promotional value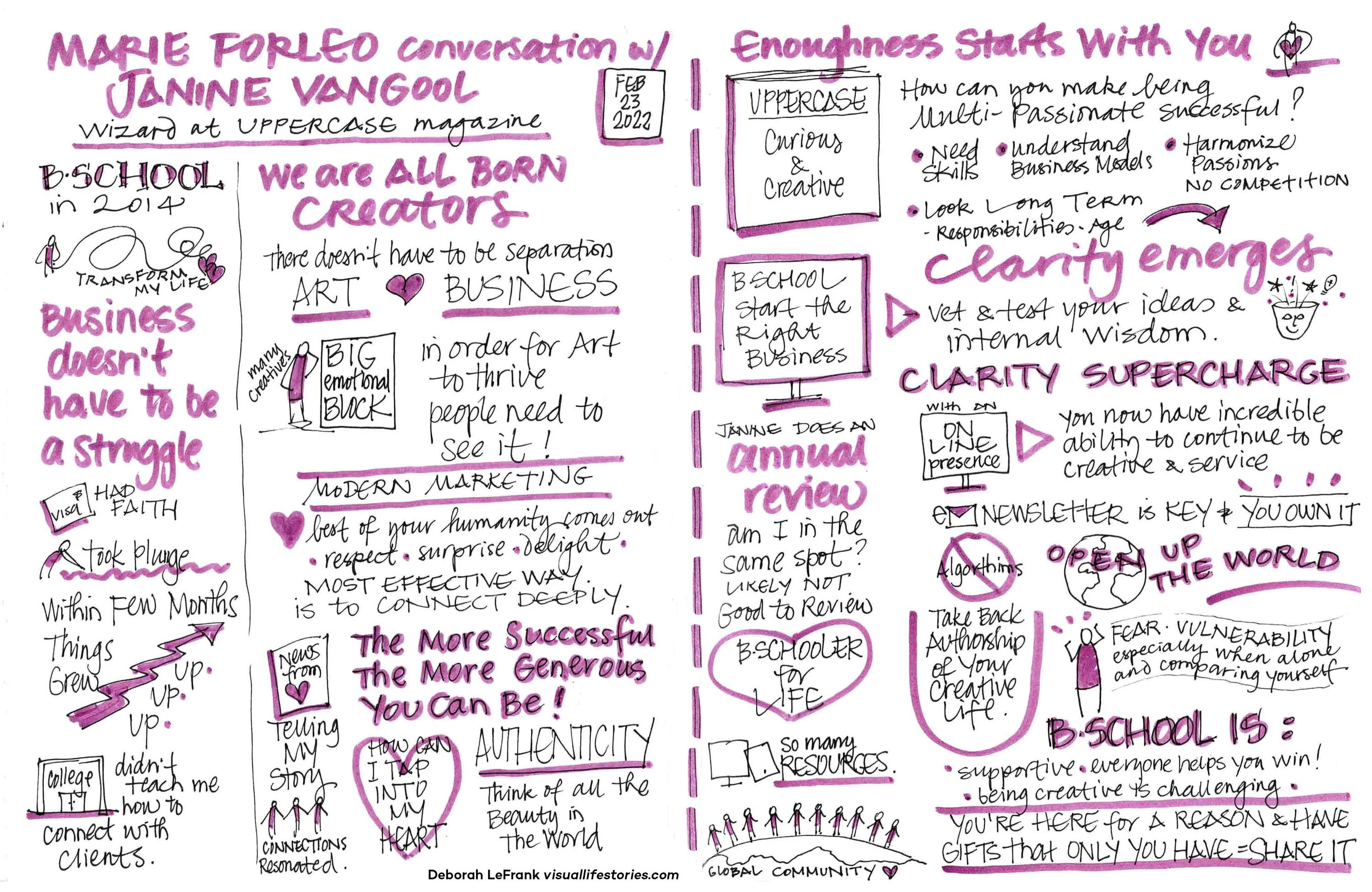 Deborah LeFrank (B-School 2016) made this sketchnote of my conversation with Marie Forleo!
Perspectives from UPPERCASE B-Schoolers
B-School is for creative folks just like you!
If you decide to take B-School (and want access to my bonus offerings!), please use my registration link so that I'll earn your referral. B-School affiliate referrals are awarded to the "last click," meaning that the tracking link a customer clicked on LAST (and that drove them to purchase B-School) will get credit for the sale.

Thank you!
-Janine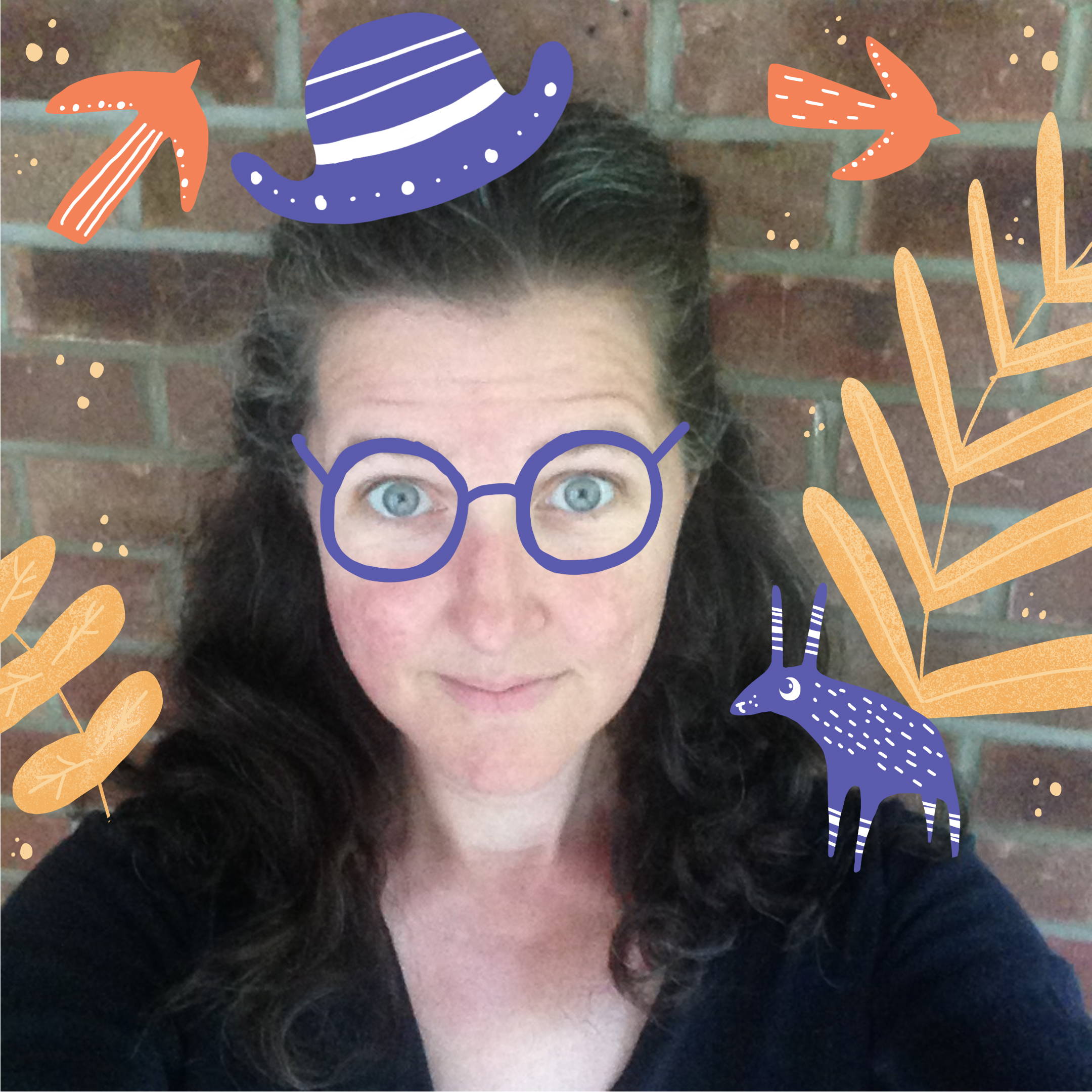 Artist and Coach
B-School 2018
My business and I have been through so many reinventions in the five years since I first took B-School. I started off as an illustrator, but have moved away from that to become a full-time visual artists, art career coach, art educator and podcaster. And although my creative business has changed a lot over that time, the business fundamentals that I learned with B-School have not.
There is a lot to learn with B-School. Each module is packed full of information. Getting to better understand my why has helped me not only run a better creative business - but has also helped me find better focus with my art. Plus I used some of what I learned about how to talk about yourself and your business to write and secure a year's worth of art grant funding.
For me, doing B-School with Janine and her smaller group of creatives was the perfect fit. I found it incredibly valuable to be working through the modules with a group of like-minded and supportive people.
After 20+ years of running my own business, I realized a better understanding of marketing was needed to take my business to the next level. I chose B-School for both Marie's insightful straight talk style and great content. I love how the courses are presented so you could decide to do a deep dive or slow burn, depending on your learning style and schedule. I found keeping up with each week's release and digging into the fun sheets in the early hours put me in the right mindset for the day.

"I have been artist, writer and business person for over twenty-five years. It took me a long time to decide to take B-School but I am glad I did. It was expensive but it was worth it.
I learned a lot. I started doing things differently and those changes worked in my creative business. I took it through Janine from UPPERCASE and the extras she gave were really helpful. I am glad I took the course."
–Deanne Fitzpatrick
Rug hooking artist, author, teacher
B-School 2020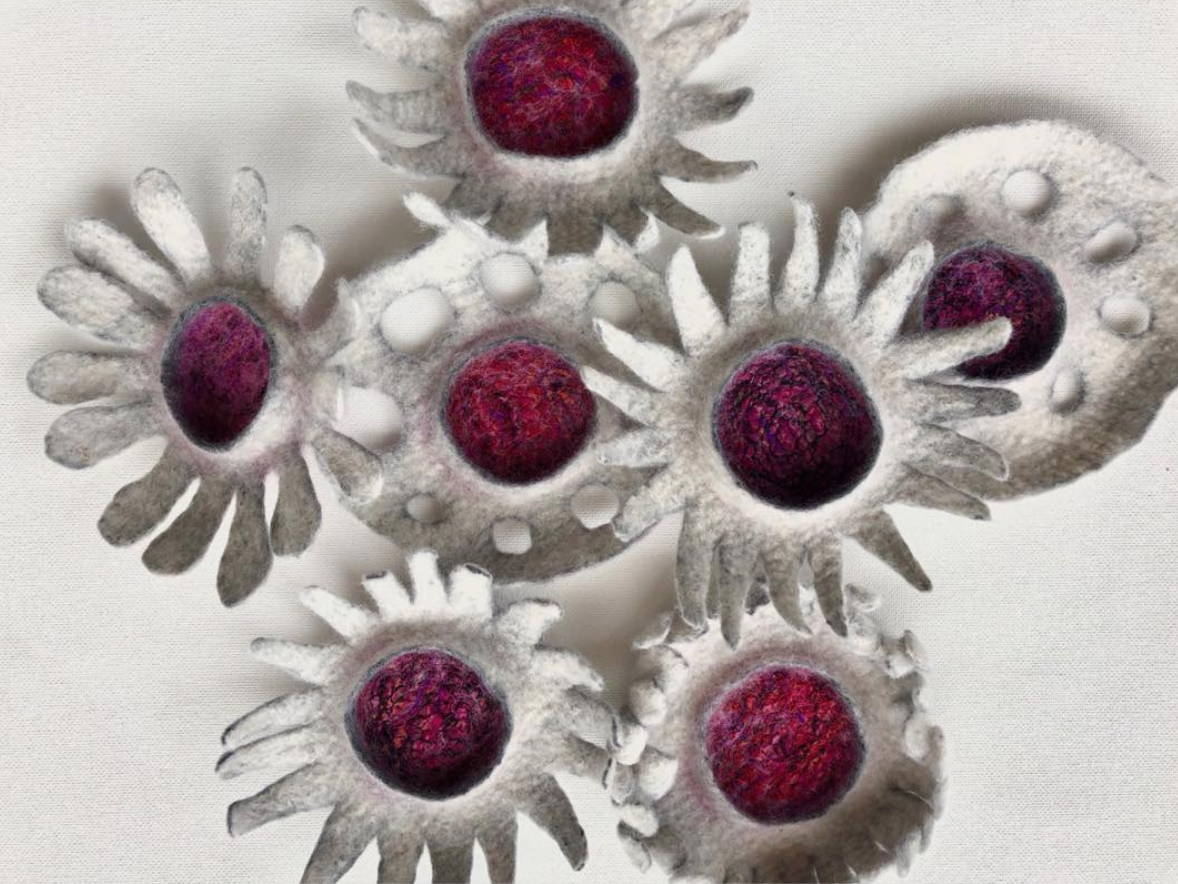 I joined B-School because as an artist I felt as though I was floundering. My work was being well received but I knew nothing about the nuts and bolts of running a business and didn't know where to start.
I was loving the work and what I was doing but wanted to feel like it was a sustainable way to be spending my time. I was really feeling like it may not be financially responsible to continue with the work I loved to do.
Making the financial investment felt tough when I was already struggling to make my business profitable. Although in the end, I felt it was good value and a resource I could continue to tap into.
It's difficult to be an artist and to find the time to make your work let alone do all the other things that need to be done to make your business viable. There are many days where I feel like my skills are lacking in so many areas. That being said, B-School helped me to prioritize and set manageable goals.
I would say that if you are looking for some guidance in growing your business and understanding where you should be prioritizing your time effectively B-School is a great experience and good value.
One of its greatest strengths is that you can continue to revisit it again and again as you and your business continue to evolve.
My business was floating along but with decreasing altitude. I needed a fresh way to look at things.
I wanted to feel more firmly in charge instead of being blown off course by every wayward wind or trend. I also needed a community of business owners for support and encouragement.
I set some pretty lofty goals but to my surprise achieved them.
I upped my income substantially—it happened before March was over! I moved the bulk of my business out of my house—and achieved this by year-end. I am far more direct in my sales copy. These things alone have made enormous differences in my life and I've learned many, many more.
In this economy doing things old school doesn't work. Scattering yourself everywhere on social media doesn't work. Having focus, goals, a targeted audience, joy in your work by does. So does authenticity.
B-School helps you gain the traction your great ideas deserve. It will mature your hopes and dreams into a profitable business.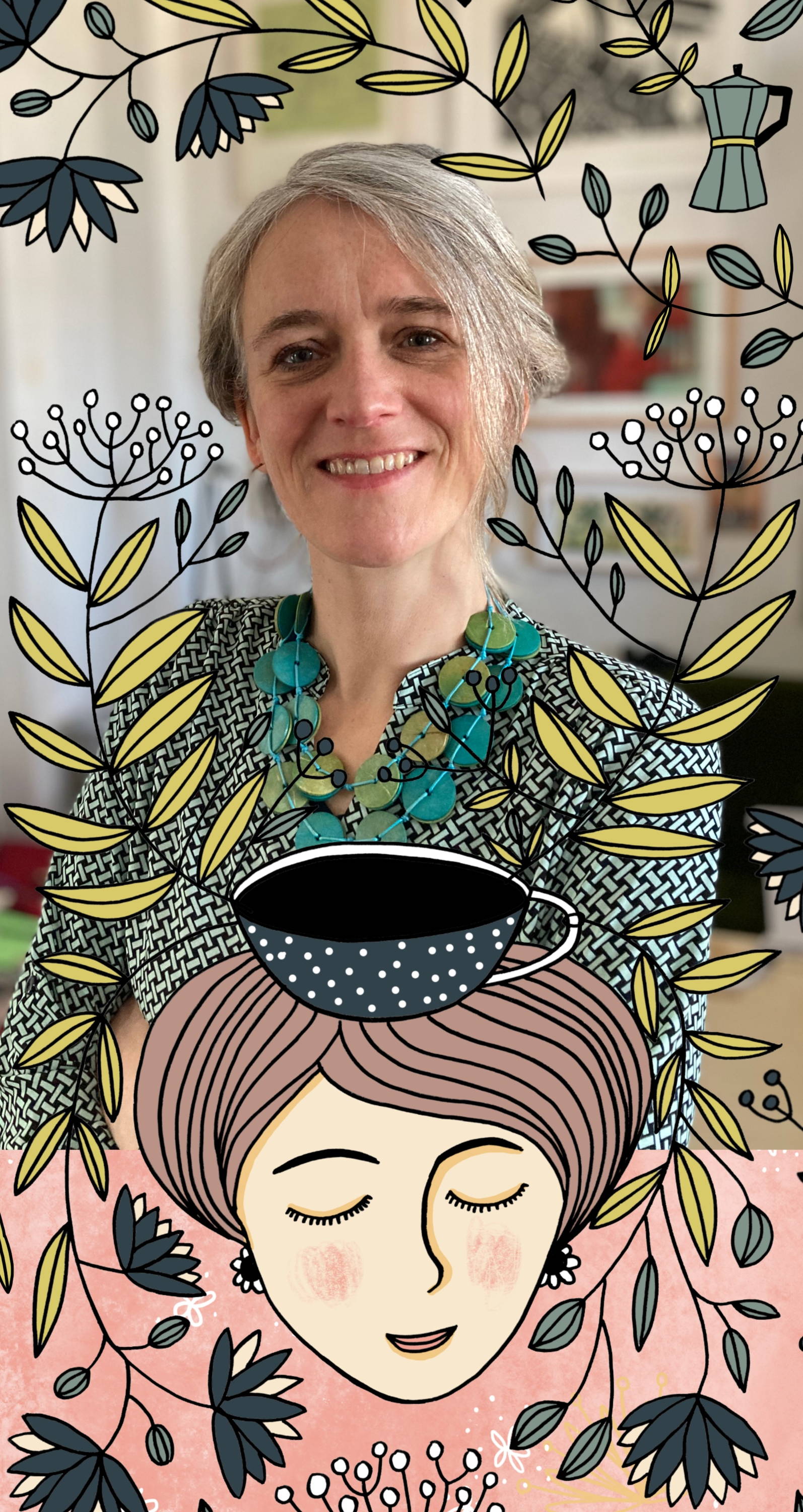 I have been an illustrator for more than 20 years and have recently become a teacher of online creativity classes.
I learned about B-School when Janine told the story how it helped her business to increase and become sustainable. It took me more than a year to have the courage to pay the amount of money for tuition. But now I know it is absolutely worth it. First of all it is an investment in yourself but B-School is also amazing, and I highly recommend it. It's full of content, insights, tips and things to think about. That might be overwhelming at the beginning but you can totally do it on your own time.
One of the greatest things about B-school is that you can revisit it again and again every year and there is always something new.
B-School helped me to get a clearer vision of my business. I learned about the importance of being in service for my customers and finding the purpose of my business.
Now I can say where I stand for and what my core values are: sustainability, creativity and women's empowerment.
"I'm looking forward to going over the lessons again this year. I learned so much and improved so much in how I run my business—and now feel ready to refocus and do more!! I'm very grateful for this forum where there are more like-minded creative indies!"

–Saskia Wassing
Textile Artist
B-School 2019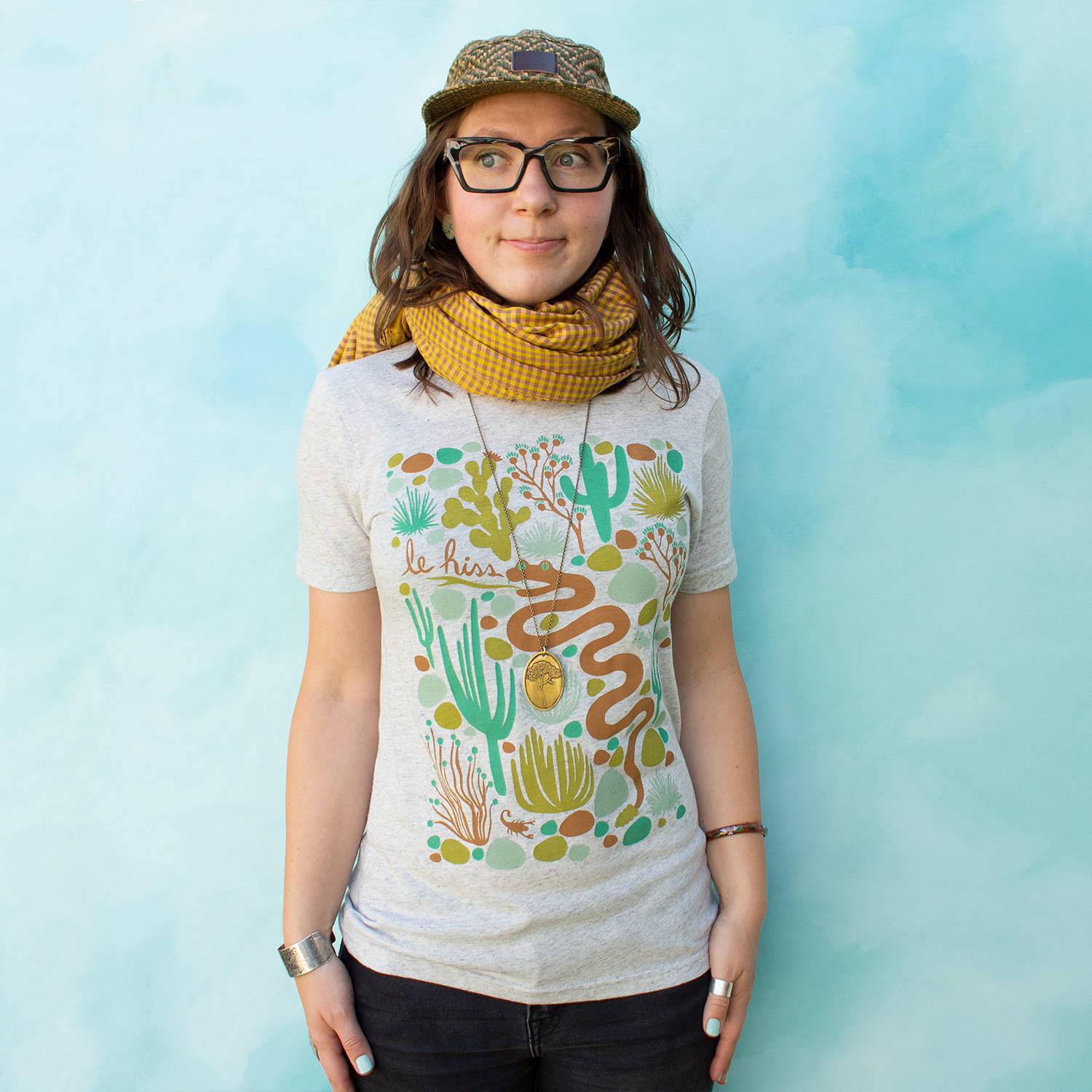 I single-handedly run a silk-screened apparel company called Mumble Tease using my own original artwork and ideas which I silk-screen by hand onto a colourful variety of apparel for men, women and kiddos of all ages.
I began my creative business very much from the creative side of things and have stumbled my way through the business side for close to ten years. And while that's worked out fairly well so far, I recognize that to take things to the next level, I need to learn about and embrace things like marketing (a term I didn't understand and was revolted by, prior to B-School), profit plans (planning?!) and communication plans (wait, more planning?!) I was hoping to gain knowledge that would help me to grow and expand my business in a way that was right for me.
I've learned a whole lot about marketing, something that I really didn't understand prior to taking B-School. One of the most helpful things I took away was the importance of sending a regular newsletter and gaining subscribers, and of how to do those things in an effective and classy way. I also watched a few videos on productivity that really changed the way I thought about and approached my daily habits and that helped me examine why I was doing the things I was doing, and how I was spending my time. It's definitely still a work in progress, but most days I feel like I'm using my time effectively, and that feels good!
Throughout the course there were some really big questions that I was asking myself, which could be very uncomfortable. But starting to think about those questions, and to work on answers, will lead me to more meaningful work on the things that I value and in the way that makes sense to me.
I found it to be a useful program, and would recommend it to other creative businesses. With so many new ideas and things to implement, I'm still working on my list of things to do from last year's B-School!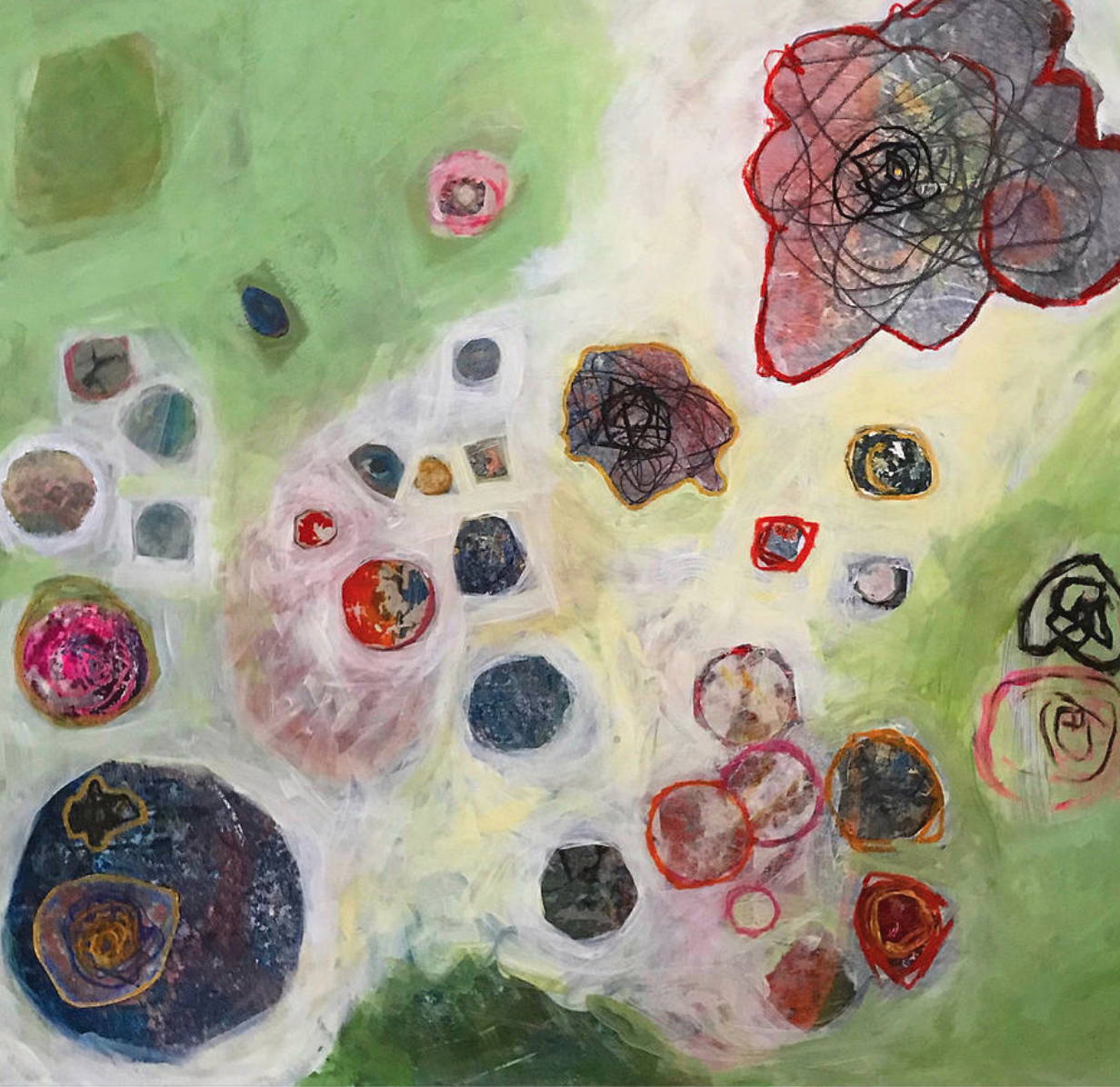 "B-School helped me get focused, and prioritize. I was able to get clearer on my language and rebuild my web site. I also feel like it moved me to the next step over really treating my dream like a business."

"B-School helps you gain the traction your great ideas deserve. It will mature your hopes and dreams into a profitable business."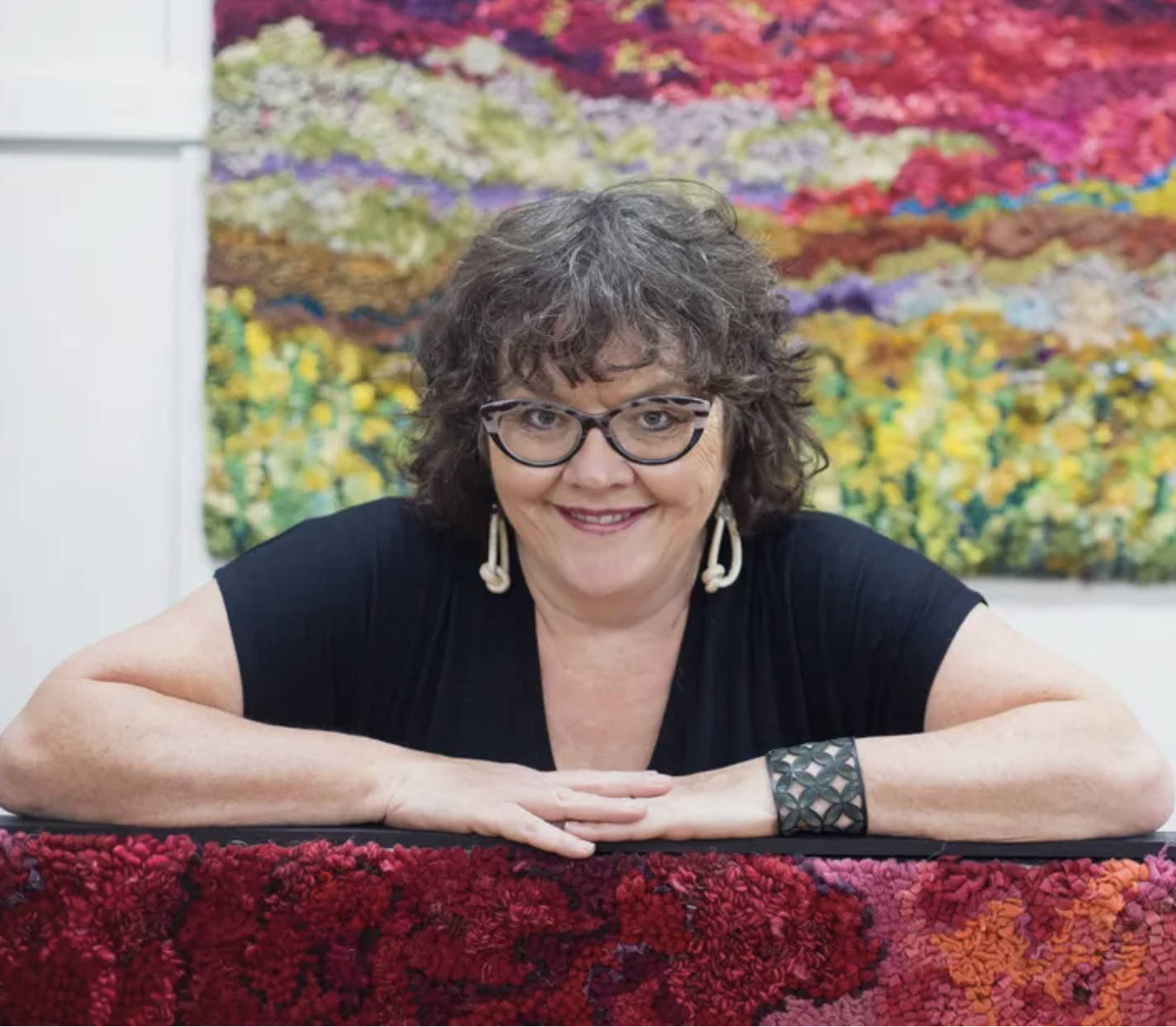 I joined Marie Forleo's B-School because of Janine from UPPERCASE. I knew that if she was promoting something like that it had to be good. And I was right. B-School taught me a lot and helped me focus on what my business needed in the moment. It really helped me see my creative business in a new way. It energized me to spend time on special projects. I am looking forward to taking it again this year.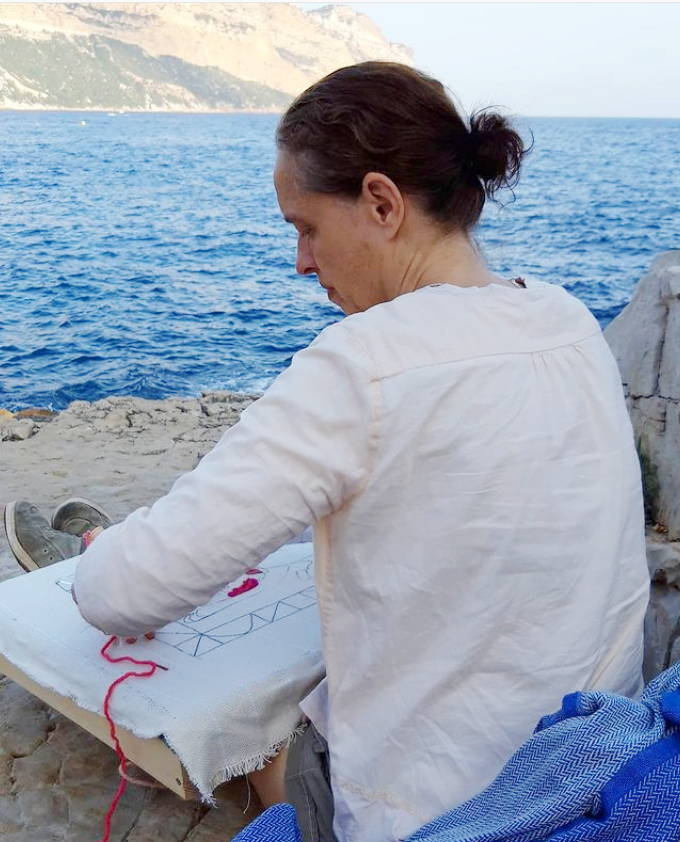 "B-School helped me focus on doing what I love in the most effective way possible. Having Janine on my side as a mentor made all the difference. She gives invaluable, spot-on, no-nonsense and kind feedback, sharing her business experience and gentle sense of humour generously. With Janine's help, implementing what I learned in B School seemed tractable, even fun! It boosted my confidence and my bottom line and transformed the way I do business."
–Kelly Wright
Textile artist and entrepreneur
B-School 2020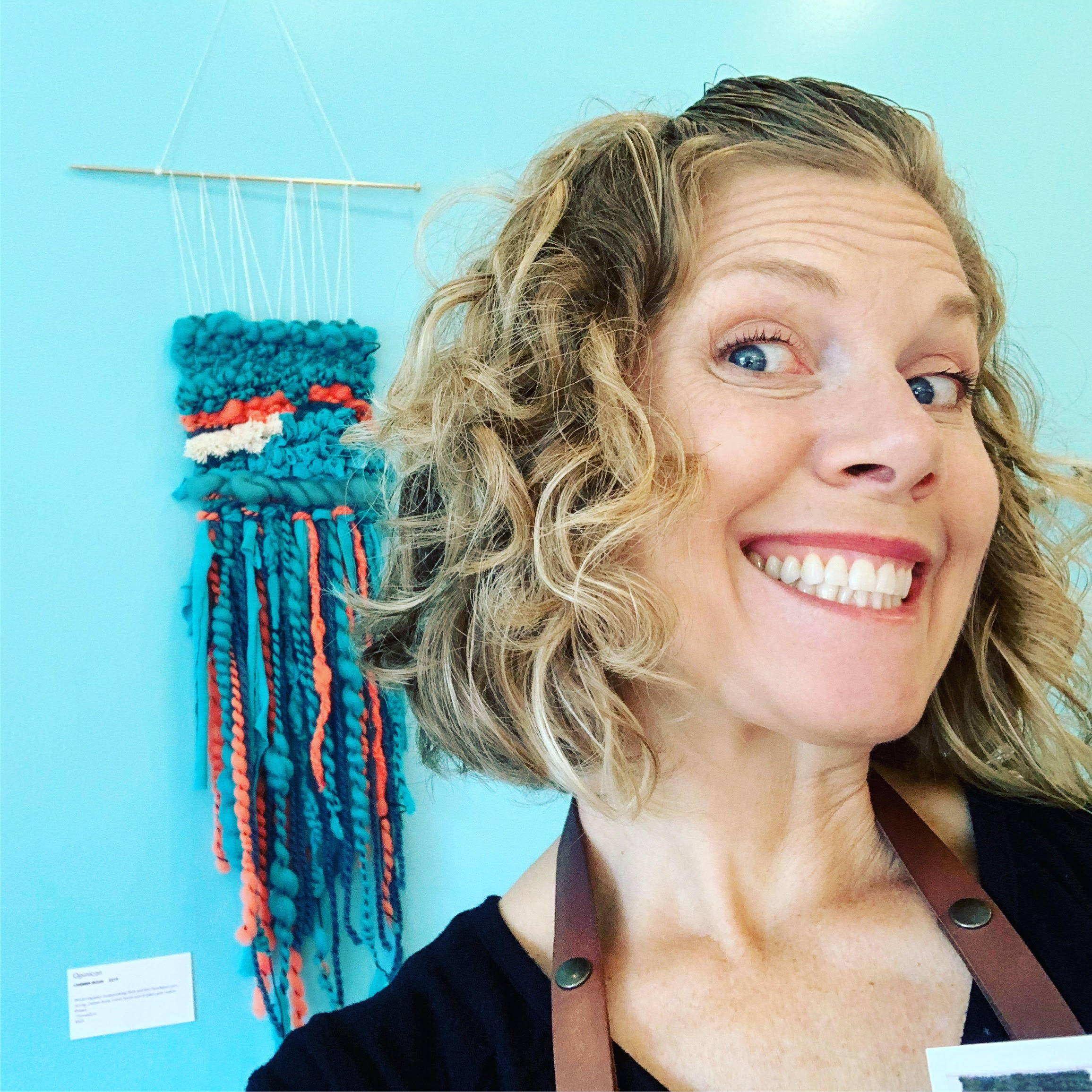 I love B-School! I have made use of so much of the content from the modules, it's hard to summarize how important this course has been to me.
I started B-School in March 2020, right before the pandemic began. B-School helped me to stay positive, to find community, to pivot my thinking around my business and to keep moving forward. Marie and Janine were encouraging instructors, mentors and role models for the type of business I hope to have one day.

The biggest lesson I learned from B-School was to embrace #progressnotperfection and to #keepshowingup. It also provided me increased confidence in both myself and my ideas. Through videos and work sheets focused on planning and marketing, I am steadily moving toward the place I have dreamed about. For instance, considering my ideal customer at each twist and turn of this fun entrepreneurial journey has been eye-opening and critical to the success of my marketing materials.
I quit my full-time day job in January 2021 in order to pursue my dream of running my own creative arts studio and making more art. I am grateful that I now get to share my passion for all things creative as a way to be well and happy on a daily basis through Ply Studio. @plystudio613
"As a creative, the business part of working for yourself is often the hardest part to get right. B-School breaks down all the essential steps to running your own business in a way that feels manageable, applicable and exciting!"

B-School is amazing, and I highly recommend it. It's extremely content-heavy, but don't let that overwhelm you. You can complete it on your own time, as I have been doing myself, and I find that Marie comes up with just the right post, podcast, or lesson, just when I need it the most. Last fall, when I was preparing for an exhibit eight years in the making, I stumbled upon one of her podcasts about focusing on what's most important, and I was able to reset my daily activities, concentrating on what needed to be done just that one day, and things really did fall into place!
Having our own circle on Janine's website is a really nice bonus.