Pre-orders prior to February 22 will be mailed directly from the printer when the book is ready. This book will ship in March, date to be announced.


Orders placed February 22 and later will be sent from a fulfillment warehouse in late March/early April. More precise dates will be posted here when available. Thanks!
A. Zarinah Nuri
Aimee Betts
Amanda McCavour
Andrea Revoy
Anna Husemann
Betz White
Blue Sky Fibers
Briggs & Little
Brooklyn Tweed
Bureau Baggerman
Carmen Bohn
Carolina Reis
Coco Knits
Crafting the Harvest
Custom Woolen Mills
Drew McKevitt
Elizabeth Ashdown
Fibre Evolution
Freckle & Knot
Hannah Burnworth
Hemptique
Huston Textile Co
ITO Yarn
Jeremy R. Brooks
June Cashmere
Kelly Wright
Kim McCollum
Liz Sofield
Maine Thread Company
Marina Dempster
Mata Aho Collective
Millpost Merino
Modern Macrame
Nadia Nizamudin
Nadine Flagel
Natalie Ciccoricco
Nine Lives Twine
PaperPhine
Pichinku
Purl Soho
Rachel Parker
Roving Textiles
Ruth Miller
Ruth Woods
Sabrina Sachiko Niebler
Sayan Chanda
Second Ascent Designs
Secret Wool Society
Shawn O'Hagan
Shenequa Brooks
Simone Elizabeth Textiles
Simone Post
Temaricious
The Endery
The Wondermakers Collective
Tim Eads
Tuija Heikkinen
Ulla Stina Wikander
Unravelled
WE GATHER
Weaver House
Whitehall Studio
Wild Fibers
WildWestDye
WonderFil Specialty Threads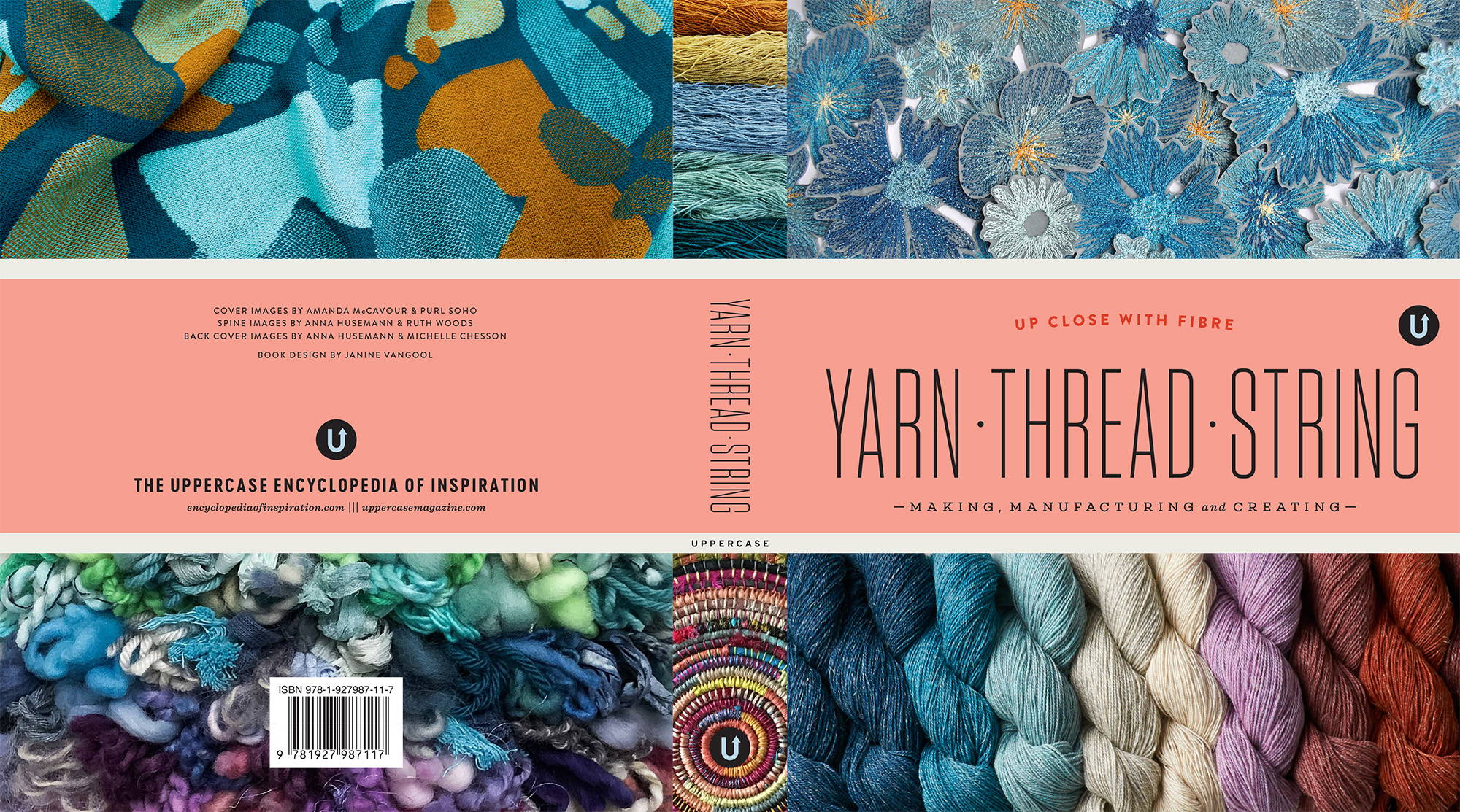 Yarn-Thread-String has a dust jacket that can be folded to reveal one of four designs. Keep the jacket around your book or use it for gift wrap, collages or other creative projects.
Dust jackets photos by Purl Soho, Rachel Snack, Purl Soho and Sayan Chanda. Web banner image by Rachel Snack / Weaver House.